Tailored to Fit Your Needs
At the Historic Matthews Reid House, we can accomodate wedding parties and special events tailored to your needs. The inviting Victorian house can accomodate up to 90 guests (or 55-60 if seated event).
With new interior renovations, we offer five front rooms plus a glass enclosed sun porch, spacious foyer, kitchen, three baths, and a room in the back of the house often used as a bride's dressing room. Each of the five front rooms come equipped with dining tables and chairs. (Tablecloths not included.) The exterior consists of a front porch, gazebo in back, carriage house on grounds, and spacious landscaped yard.
View Reid House floor plan.
We can satisfy most any of your rental space needs including:
Wedding Ceremonies
Outdoor Weddings
Rehearsal Dinners
Wedding Receptions
Bridal Luncheons
Anniversary Celebrations
Charity Events
Private Parties
Luncheons
Business Meetings
Corporate Functions
Reunions
Film and Photography Location
Catering and Other Vendors
Matthews Reid House has established a business arrangement with Adam and Veronica Reed, of Santé Restaurant, 165 North Trade Street, Matthews NC and with Crystal and Randy Provance, of Southern Gourmet, 9101 Monroe Road, Charlotte NC. If you desire a turn-key event, please contact them directly at 704-845-1899 for Santé and at 704-849-7646 for Southern Gourmet.
Otherwise, you may choose whichever companies you desire for your event at Matthews Reid House. However, certain restrictions apply so please contact the Event Manager for details. If you would like suggestions for vendors, we have a list available on request. We require that you inform us of your choice for Caterer and Rental Company as soon as you have made that decision.
Rent the Reid House for your own personal Photo Shoot
For a truly unique photo opportunity, the beautiful Reid House and grounds make a wonderful location for wedding or family portraits taken by your photographer. It is available for special photo rental, which gains you access to the house for portraits and clothes change. Please call 704-351-0497 for more information and availability.
Rental Inquiry Information
We welcome your interest in the Reid House. When emailing for information, please add your phone number so our rental agent may call you. We do not email prices so it is important that you leave a phone number where you can easily be reached.
The cost to rent the Reid House for special events starts at $500. Please call Bill Helms at 704-351-0497 for details regarding pricing and availability. Sorry, we are unable to give quotes by email.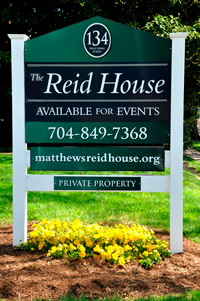 Call today to book your event!
704-849-7368
or
704-351-0497
For more information email info@matthewsreidhouse.org

with rental inquiries.

Rental Inquiry
Please send an inquiry to info@matthewsreidhouse.org. Please with rental inquiries.
Matthews Reid House P.O. Box 1117 Matthews NC 28106
Copyright © 2020 Matthews Reid House. All rights reserved. Contact Webmaster.