The Reid House, located at 134 West John Street in downtown Matthews, was built in 1890 by Edward Solomon Reid. A prominent businessman in Matthews, Mr. Reid sold the house to his sister Ellen in 1893, the year she married Dr. Thomas Neely Reid. Dr. Reid was from Sharon Township, North Carolina and was not related to the Matthews Reid family. Upon his graduation from City University of New York, Dr. Reid settled in Matthews and began practicing medicine in 1889. Dr. Reid served the citizens of Matthews for fifty-seven years until his death in 1946 at the age of 78. He was a colorful figure in town, beloved by his patients. Dr. Reid was one of the first people in Matthews to trade his horses for the "new fangled" automobile.
The house was named for Miss Nancy Reid, the youngest of Dr. and Mrs. Reid's daughters. She was born in the house on January 9, 1898 and lived there until her death on January 25, 1986. She was well educated and taught in the Charlotte Mecklenburg School System for 35 years. Mrs. Sarah Redd of Columbia, South Carolina, a niece of Miss Nancy's, inherited the house upon her death. Mrs. Redd generously gifted the house and property to The Matthews Historical Foundation on December 31, 1987.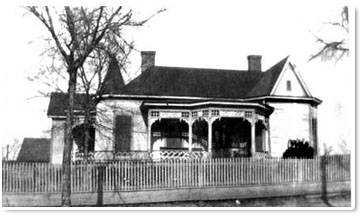 The Reid House is considered unique because it was one of the few Victorian Queen Anne style homes built in Mecklenburg County. With its design of gingerbread cupola, Chinese Chippendale porch railing and rounded turret it has remained a wonderful example characteristic of Victorian style. The large windows, still with the original glass, the height of the interior walls, nearly 12 feet, and the woodwork and cross molding above the windows all are evident in homes of this era. Unfortunately, the furniture is not original to the house but is period correct.
The exterior and interior of the house have been remodeled. The front porch was originally a verandah that was connected to the porch on the left side. That was changed and a bathroom added, which appears to the left of the porch. The back porch was enclosed in the 1950s. The existing dining room was a bedroom and the original dining area has become solely a kitchen. The chandelier in the dining room is said to be a replica of one in the White House. An extra bedroom and bath were also added by Miss Nancy at the back of the house and serves today as the "bride's room". The gazebo was constructed in 1996, using the Chippendale woodwork pattern found on the front porch as a guide. It makes a wonderful addition to the large backyard.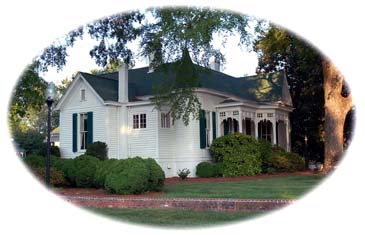 Read more about the Historic Reid House
Matthews Reid House P.O. Box 1117 Matthews NC 28106
Copyright © 2020 Matthews Reid House. All rights reserved. Contact Webmaster.