HISTORY OF THE REID HOUSE
by NANCY REID
Ed. Note: Nancy Alexander Reid was born at the Reid House on January 9, 1898. In 1980, she wrote some of her recollections in a brief essay titled "History of the Reid House". She died at the house on January 25, 1986 at the age of 88.
Prior to 1890, my uncle, Mr. Edward Solomon Reid, hired Mr. Howe and his son Clarence to build him a house in Matthews. Uncle Ed, as I called him, had heart pine lumber shipped from the Eastern part of North Carolina to the build the house. He, his wife and one child lived in the house for a few (three) years. My mother, who had previously married Dr. James S. Bell, had two daughters; Mary, who was three years old and Jessie, who lived to 19 years of age, was at that time about to marry Dr. Thomas Reid. They bought the house from Uncle Ed, who moved to Charlotte, and moved in. My sister Lida Reid Cochran and I were born in the house.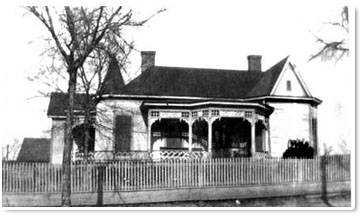 There were three bedrooms on the left hand side of the house. On the right was a living room, dining room, kitchen and pantry. A hall separated the bedrooms from the rest of the house. The house was surrounded by a white picket fence which separated the front yard from the backyard. On the other side of the picket fence was a vegetable garden which was enclosed by a larger, taller picket fence. That fence was one of my favorite walking places. My mother and father planted the magnolia tree in the front yard shortly after they moved in.
The house originally had a red metallic roof, how I loved to hear the rain come down on that roof. It made such a noise, it put me to sleep. In the backyard was a well-house with running water, where mama kept her milk and butter in a stone trough. When I was very young, Mama and Papa rolled the well house over the house and made it into a kitchen and pantry. This is the room where Elnora (Elnora Stitt, Nancy's housekeeper and companion) stayed. (Note: It is now the bride's room.) The original dining room was where the kitchen is now. The dining room was Mama's and Papa's bedroom. The rest of us girls stayed on the other side of the house. Bathrooms were later added, as was the now screened back porch. (Note: Now glass sunroom.)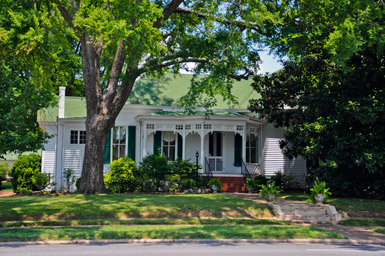 Read more about the Historic Reid House
Matthews Reid House P.O. Box 1117 Matthews NC 28106
Copyright © 2020 Matthews Reid House. All rights reserved. Contact Webmaster.