The charming Victorian Matthews Reid House is an ideal wedding venue located in downtown Matthews, North Carolina and just outside the city of Charlotte. It features a newly renovated interior and a lovely spacious landscaped lawn. The backyard gazebo is a favorite setting for weddings.
It combines classic Southern elegance with modern amenities to suit today's modern bride. Our tranquil outdoor setting and beautifully appointed interior provide the perfect ambiance for you to create a picturesque wedding to remember. We feature an elegant home environment that can accomodate 55-60 guests for an intimate sit-down dinner or up to 90 guests for a more casual buffet style. A gazebo in the back corner of the lawn is perfectly situated amid colorful plantings and an ideal setting for a wedding ceremony. A generous side yard provides privacy with a brick wall on one side, the Reid House on the other side, and a colossal Southern magnolia tree providing a stately backdrop between the sides.
What We Offer
With new interior renovations, we offer five front rooms plus a glass enclosed sun porch, spacious foyer, kitchen, three baths, and a room in the back of the house often used as a bride's dressing room. Each of the five front rooms come equipped with dining tables and chairs. (Tablecloths not included in rental.) The interior is tastefully decorated featuring soft pastels to go with any color scheme. The exterior consists of a front porch, brick sidewalks, gazebo in back, and a carriage house surrounded by roses and other plants at the back edge of the property. (Carriage house excluded from rental space.) Parking available. Lodging and restaurants nearby. Easy access to Highway 51, Independence Boulevard (Highway 74) and I-485.
View Reid House floor plan.
Services
At the Historic Matthews Reid House, you can create your own event by bringing in vendors of your choice whether it is caterers, florists, musicians, etc. We are one of the few venues to allow this type of service. Certain restrictions apply so please contact the Event Manager for details. If you would like suggestions, we have a list of vendors available on request.
If you prefer a turn-key event, Matthews Reid House has established a business arrangement with Adam and Veronica Reed, of Santé Restaurant,
165 North Trade Street, Matthews NC and with Crystal and Randy Provance, of Southern Gourmet, 9101 Monroe Road, Charlotte NC. Please contact them directly at 704-845-1899 for Santé and at 704-849-7646 for Southern Gourmet.
Advance notice of your choice of vendors is required.
Endorsements
"Everyone has told Deanna and I how wonderful it was to have our reception there at the Reid House. You and your team were just a delight to work with. Thank you again."
The Historic Matthews Reid House
Whether you want the beauty of a garden wedding, the serenity of an indoor wedding, or the elegance of an evening wedding, the Historic Matthews Reid House can meet your needs.
Your perfect romantic wedding begins at The Historic Matthews Reid House!

The perfect setting for your garden wedding and wedding reception!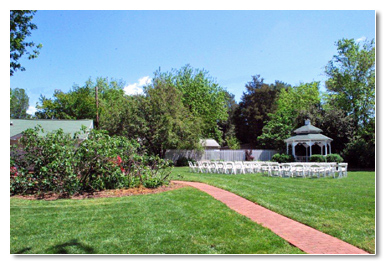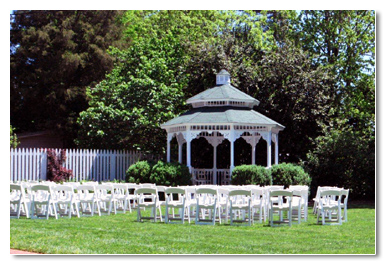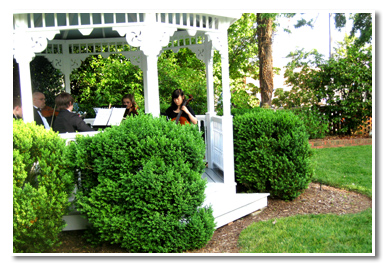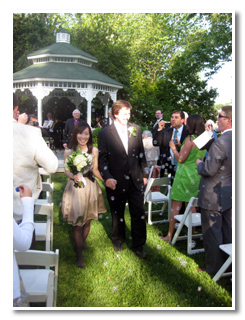 Photos by Jocelyn Bland, Rosette Photography



Matthews Reid House
134 West John Street
Matthews, NC 28105

Information line: 704-849-7368
For more information, please see our Rental Information.
Inquiries: email info@matthewsreidhouse.org
Please when inquiring about a rental.
Matthews Reid House P.O. Box 1117 Matthews NC 28106
Copyright © 2020 Matthews Reid House. All rights reserved. Contact Webmaster.